SEO (Search Engine Optimization) requires a multifaceted strategy that includes researching your competition, analyzing keywords that can drive traffic, creating external and internal link building strategies, and optimizing page load speed.
Below are some of the best SEO tools to increase your chances of ranking well on Google.
This powerful SEO platform offers a range of tools that replace the functionality of other products such as Google Trends, MOZ, Hootsuite and SimilarWeb.
Tools provided include:
traffic analysis – Compare your website traffic with your competitors to see where you stand. See estimated total traffic, top traffic sources, bounce rate, time on page, and more to help you with your next strategy.
Keyword research – Keyword research should be at the top of your list when it comes to SEO. Discover your organic search competitors and find opportunities to compete. Learn the exact keyword values ​​they rank for and highlight gaps that even your competitors overlook.
keyword gap – Competing for the most obvious keywords can be difficult. The best strategy for new websites is to go after long tail keywords. These are search terms that traditional market leaders often ignore. This tool allows you to compare up to 5 competitors side-by-side and find any gaps in your keyword strategy that you can start targeting.
backlink analysis – Backlinks are one of the most important factors for a website to rank highly. With this tool, you can get new backlink opportunities for your own site. Just visit your competitor's site to see all their backlinks. Then find your top referring domains, apply filters to find specific sites, and identify recently gained and lost backlinks. With this information, you can discover how your competitors are sourcing backlinks, the types of articles that get these links, and develop strategies to do the same.
location tracking – Previously, dedicated software was required just to track the current ranking of multiple keywords on Google.This time-saving tool is included in this platform. Using this information, we recommend that you focus on the pages that rank 6th to 20th and work on improving your pages for those keywords. Improvements include optimizing website content to maximize user conversion and retention.
SEO Writing Assistant –You should always create content that is user-first and generated, but these tools help ensure that your content is SEO friendly. It integrates directly into your Google Docs or WordPress account can.
Content audit – This is one of the least appreciated features of this platform, auditing your content assets and automatically splitting them into sets for further improvement. Use Google Analytics, Search Console, and SEM Rush data to find areas that need to be updated, rewritten, or removed.
These various tools and more are the reasons why SEM Rush is at the top of our list.
One of the most difficult aspects of SEO is knowing your current rankings in real time. Manually searching Google is time inefficient and risks giving the personalized, localized results the wrong impression.
This is the best tool on the market for quickly identifying your current rankings with powerful tools.
rank tracking – Get reliable rank tracking from anywhere using any device.
Ranking analysis – Online views, data visualizations, and graphs that allow you to quickly analyze your SEO progress and make informed decisions based on insights.
report –When sending reports to potential investors, clients or internal team members, we provide the ability to automatically generate and send customized white label reports.
As I detailed in my SEO optimization guide, one of the most overlooked aspects of ranking well on Google is page load speed. This has been a ranking factor since at least 2017 and is very important especially for his users on mobile.
This free tool provided by Google to website owners analyzes how Google rates page load speed. If your website is green and passes, it will not be excluded from search results.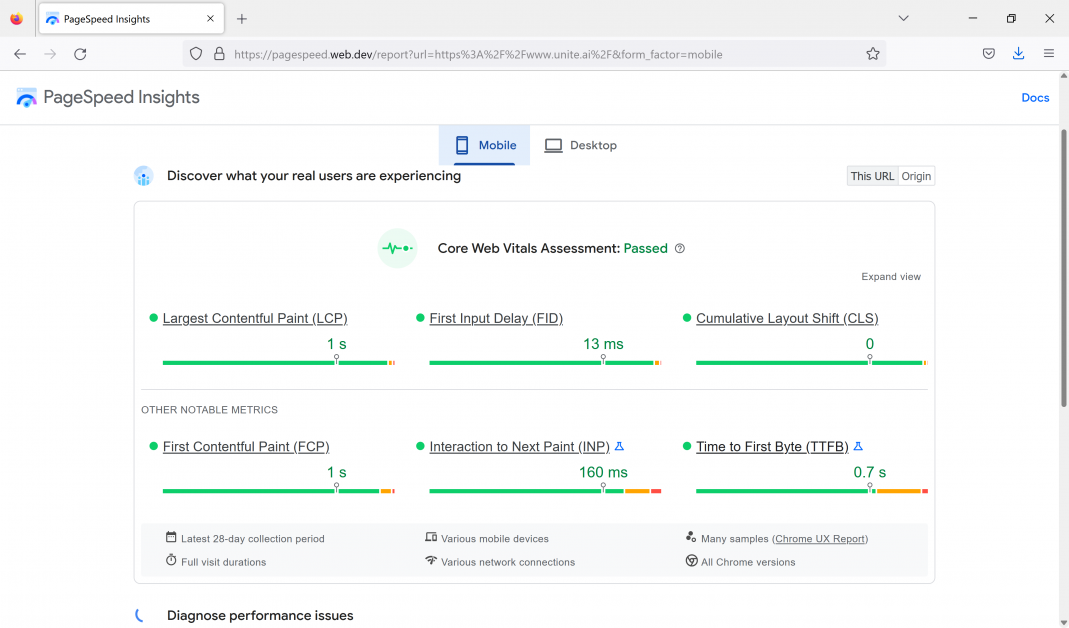 Unfortunately, if it fails, you should rectify this situation immediately. Three metrics to watch are:
First content paint
Maximum content paint
Cumulative layout shift
The initial content paint is the first visible above-the-fold content when the page loads. How many microseconds does it take to finish loading?
Maximum content paint indicates the time the maximum text or image was painted. This is when image size optimization is a priority.
Cumulative Layout Shift measures the movement of visible elements within the viewport as the page loads. You may have personally encountered this when you start reading content on a page and then the content on the screen shifts. This can cause frustration among users.
Every business owner should be familiar with this tool. If you see a red FAILED notification for him, it's likely that you won't be able to rank higher and you should correct the situation.
Knowing the importance of optimizing page load speed is especially important for passing Google PageSpeed ​​Insights. Nitro Pack is a tool that enables this speed optimization. Everything you need for a fast website in one place. Features like caching, image optimization, and CDN are out of the box.
image optimization
lossy and lossless image compression;
advanced lazy loading (including CSS-defined background images);
preemptive image resizing;
WebP conversion (if your browser supports it).
Adaptive image size.
code optimization
Minification and compression of HTML, CSS and JS.
Important CSS, DNS prefetching, preloading, etc.
GZIP and Brotli compression
Loading optimization
Built-in global CDN
Disable Smart Cache.
Automatic cache warmup.
A cache that is device and cookie aware.
Browser and session aware caching.
Surfer is primarily a tool for generating content,
outline builder – Use the built-in outline builder to organize your content into detailed outlines and add your own potential headings and questions.
topic discovery – Discover dozens of related topic clusters in minutes. This allows for a strategy of targeting different keywords.
Keyword volume and search intent – See your target audience's search intent and assess monthly search volume and keyword difficulty at a glance. Google offers this feature for free via Google Keyword Planner, but this tool is easier and less frustrating.
Internal content structure – This is seamlessly optimized using real-time metrics for structure and word count.
AI lighting – Take full advantage of Surfer's features to create well-researched, high-quality articles.
AI content and plagiarism – Some affiliates may choose to rely on AI-generated content, which can lead to Google penalties. This is why the built-in plagiarism and AI content checker are important tools if you want to avoid penalties.
Building internal links is an important SEO strategy, providing the best user experience for your visitors and means linking to relevant content.
This is an innovative linking tool that speeds up the process of internal linking. AI-powered Link Whisper will start suggesting relevant internal links as soon as you start writing an article within the WordPress editor.
Depending on how many articles you have on your site and how relevant your existing content is, Link Whisper will suggest dozens or more internal links from the content you're editing.
Just tick the box and hit save. Internal linking is complete. This saves a lot of time.
Neuraltext aims to use AI to cover the entire process from content conception to execution.
AI copywriter, SEO content tool, keyword research tool.
With AI copywriting tools, you can create effective copy for your campaigns and generate dozens of variations. There are over 50 ready-to-use templates (Facebook ads, slogan ideas, creating blog sections, etc.).
SEO content tools help you create well-researched content using data from pages already ranking on Google. Here's how it works: Insert a keyword, and the tool will automatically pull the top 20 Google search results, show you data about suggested keywords to use, topics to cover, questions to answer, and stats. increase.
With this data, you can easily create an outline with just a few clicks and assemble a content brief for writers in minutes instead of hours of clicking through Google search results.
Additionally, you can use these data in the editor to get scores and optimize your content for SEO as you create it.
Finally, keyword research tools can help you find long-tail keywords with strong commercial intent.
Many consider Jasper to be the best all-around AI writing assistant, leading the market with its impressive features and quality. Provide seed words first. Jasper analyzes it and then creates phrases, paragraphs or documents based on subject matter and tone of voice. He can write a 1,500 word article in 15 minutes or less.
The platform has over 50 AI content-generated templates, including blog posts, emails, marketing copy, Facebook ad generator, Google ad generator, SEO meta titles and descriptions, press releases, and more.
Here are some of Jasper's great features:
Over 11,000 free fonts and 2,500 categories of typefaces
Supports over 25 languages
intuitive interface
Long-form writing assistant (1,000+ words)
Identify key elements of text (pronouns, verbs, names, etc.)
With the proliferation of lighting tools like Jasper and all AI lighting tools using variants of GPT 3 and GPT 3.5, business owners need to be able to detect when lighting is generated by AI. Originality.ai solves this problem by scanning your entire website for AI-generated content and plagiarism, allowing you to do so in a cost-effective manner. This is the perfect solution for content publishers who have hired writers and are worried about whether their content was generated by her AI or plagiarized.
INK Editor combines AI co-writing with an SEO assistant to help you develop your content. Her SEO Assistant aspect of the tool allows you to create content that ranks high on search engines and drives organic traffic. This is made possible by a patented AI system that analyzes your content in real time while providing suggestions to improve your SEO score.
Another key feature, AI Co-Writing, helps generate performant copies. AI helps users write, rewrite, and simplify sentences.
Let's take a look at some of the main features of the INK Editor.
meta-optimization
Image optimization with compression and resizing
Spelling and Grammar Correction
AI-Writing, AI-Simplifying, and AI-Expanding Features
Integrated into WordPress