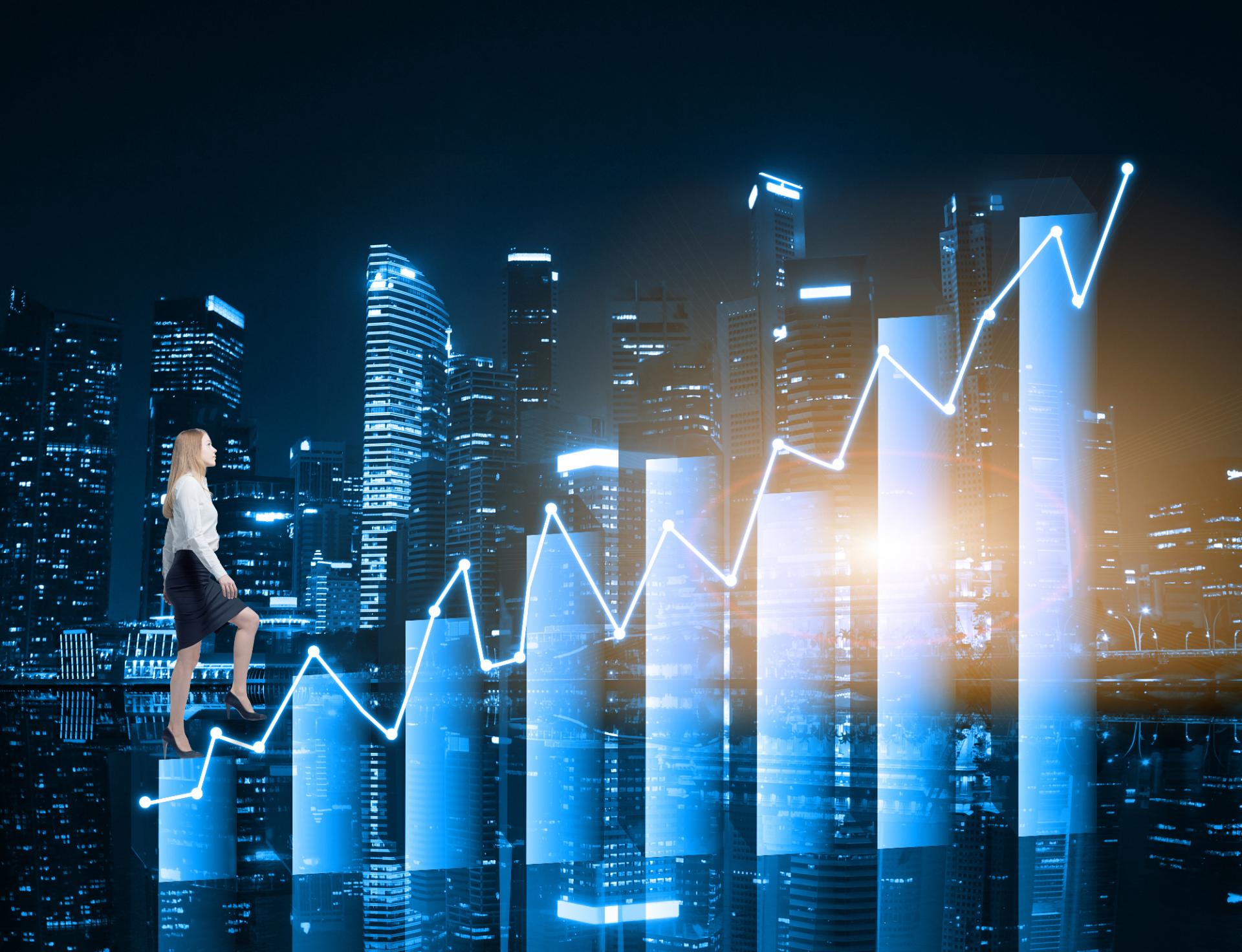 When you make the decision to sell your business, undertaking a fresh growth strategy might not be the first thing that springs to mind. However, there are a number of reasons why you should aim to grow your company prior to a sale.
Of course, the most obvious reason is that larger companies with higher turnover and earnings command higher multiples than smaller businesses, meaning a more significant payday for you once a deal is completed. But that's not the only reason.
As a business grows from, say, six-figure turnover to seven or eight-figures, it becomes easier to ultimately transfer control to a new owner. That might sound illogical, but there is solid evidence that growing a business can make the process of disposing of it far simpler, quicker and more cost-effective.
When a business is bigger, there are likely to be more solid, well-established processes in place, which makes it easier to transfer during a sale, compared to the more haphazard systems that are often in place at smaller, less well-developed companies.
As a result, in order to unlock a higher sale multiple when it comes time to sell your business and to help ensure that it has efficient, set processes in place and is ready for a rapid, successful transition of ownership, here are some steps that you can take to scale your firm to a seven or eight-figure business.
Implement a predictable revenue model
One of the key factors that sets a large business apart from a small or medium-sized firm is a revenue model that is predictable, resilient and finely-tuned at every stage. When you begin the process of scaling up a business to seven or eight-figure turnover, establishing a predictable revenue model should be one of the first steps you take.
First, evaluate your current strategy, all with an eye towards understanding how it currently works and seeing how it could be restructured and improved. Review your business' marketing strategies and the processes followed by your sales and marketing teams in order to identify weaknesses and highlight areas in which greater efficiencies can be unlocked.
Once these areas have been outlined, you can begin the process of restructuring and implementing changes. This might include introducing specialised new roles within your sales and marketing divisions dedicated to finding and delivering leads. Steps such as this will help to improve and codify your structures and processes, making them more efficient and predictable.
Perhaps the most important part of introducing a predictable revenue model, however, is harnessing the capabilities of technology – a factor that often differentiates a larger business from a smaller operation and something that will ultimately make it easier to transfer the process to a new owner once you've completed a sale.
After you've undertaken a thorough audit of your revenue model, you can begin to see where technological solutions might be introduced to improve and automate your current processes. Technologies such as Customer Relationship Management (CRM) tools, digital billing and sales platforms will not only improve your sales and client relations, they can also be managed by external suppliers, freeing up valuable time for your sales and marketing staff to work on driving further efficiencies elsewhere and making transferring the processes simpler.
Looking forward, you can help to ensure that your sales processes and revenue model is a well-oiled machine in which many core factors virtually take care of themselves by introducing automation wherever possible. Automatic processes such as customer responses, updates on orders and emails sent to prospective leads will all be crucial to helping the business continue to drive leads and conversions at scale.
Drive online and foot traffic at scale
Another major factor in growing your business up past six figures will be to drive greater traffic to your site or physical business and to institute changes and methods that enable this to continue growing at scale. Greater traffic will mean greater visibility for your business, a bigger brand profile and, ultimately, more conversions, sales and revenue.
Crucial to this process will be improving SEO (search engine optimisation) for your website. Investing in SEO, whether that be the content your site features, its layout and design, or your use of links, will mean that you rise organically up the rankings in search engines, without needing to pay to be featured near the top. Proper SEO will ensure high rankings on search engines such as Google, which will in turn result in consistently driving organic traffic to your site.
Posting content on your website that is relevant to your sector, employing the keywords that people searching for the products or services you offer are likely to enter into search engines, will be vital for your SEO. Undertaking some simple research can help you to identify the most important keywords for your industry and niche, giving you the building blocks to begin integrating this into content posted on your website.
Consistently posting high-quality content and utilising keywords are the two most important aspects of using SEO to drive traffic to your website but using internal links to other areas of your site (ideally anchored to key words or phrases) will also help to generate traffic and increase the time users spend on your site.
Keywords and internal links aren't just a strategy to use moving forward, however, this is also something that can be applied to older content on your site. Once you've compiled your keywords and know what internal links you want to use, going back and refreshing older, potentially outdated content will further drive your site's SEO.
Optimising your website will be crucial to driving traffic, but you can also draw in more potential customers through targeted strategic partnerships. Backlinks (links on external websites that link back to your own site) are a core part of SEO and forming partnerships with third parties can help drive significant amounts of traffic to your site, as well as growing your brand profile.
You might consider repurposing some of your content with backlinks to be posted on a third-party website, appearances on podcasts relevant to your industry or niche, or even collaborations with non-competing companies that have a customer base that overlaps with your own.
Advertising cannot be discounted as a reliable method of driving significant amounts of traffic to your website. Ads can be run on sites such as Facebook and Google that will help to direct customers with the relevant interests and needs to your site, while promoted posts on Twitter can achieve much the same thing. You could also explore potential partnerships with influencers or amplifiers that have audiences relevant to your sector.
Finally, aside from paid promotions, simply regularly using social media can deliver material benefits in terms of increasing traffic to your site. Engaging in and writing Twitter threads, posting and commenting on LinkedIn and interacting with customers on Facebook are all things that will get your voice heard and help attract users to your business.
Of course, online traffic is not the only measure of a company's popularity and many businesses will also need to increase their foot traffic if they are to scale up before a sale. The first step to increasing physical traffic is to get an idea of the current levels of footfall that a business is seeing.
There are a range of methods that businesses can use to gauge their foot traffic – ranging from something as simple as traditional tallies or click-counters to more modern techniques, such as CCTV or traffic-tracking software solutions, which utilise technology such as sensor tools or Wi-Fi monitoring to track the flow of people through a business' doors.
Monitoring foot traffic can enable a business to gain insights into their customers – such as when people visit most, where customers come from to visit the business, how long on average customers spend in the business and the conversion rate of visits to sales – which can then be used to inform decisions to boost traffic moving forward.
Depending on the insights a business gains, decisions can be made on methods of increasing traffic, such as where to target advertising and marketing efforts, changes that might be made to the business' physical layout, inventory planning and staffing numbers that are required at different times.
When it comes to methods for boosting physical traffic, online will still be a powerful tool. A business can invest in local SEO in order to boost its visibility in the immediate area. This can include simple steps, such as listing its address and other location details, opening hours and maps on its website and social media channels and engaging with local press, as well as more targeted efforts, such as utilising location-specific keywords in its online content and partnering with other relevant local businesses or sites in order to gain backlinks.
If a business, for example a retailer, is operating an omnichannel approach incorporating both e-commerce and physical retail, then efforts can be made to attract online customers to the brick and mortar business in order to drive further sales. To this end, companies could offer customers the choice between delivery when they order a product or free in-store collection and encourage physical customers to post online reviews after visiting the business.
Aside from such efforts, traditional steps such as in-person events for clients, partners and customers, investment in branding and updating layout and design can all be effective methods of increasing a business' physical traffic.
Implement productisation
A crucial element in developing a scaled-up business that is both more valuable and easier to transfer to a new owner is 'productisation', a process that can rapidly deliver scale, speed and value for your business if instituted correctly. In brief, productisation means transforming your business' products or services into something easily repeatable that can be sold on a greater scale and for a higher margin.
Scale, speed and price are the key benefits that productisation delivers. Scale, because productising enables your business to produce more of the goods or services that it offers, produce faster and with a higher margin. Speed, because introducing repeatability, reproducibility and automation into your processes means you can produce, sell and deliver your products or services far quicker. Price, because buyers are paying more for a product that takes less time to make.
When beginning the process of productisation, you should start by listing anything that your business produces or sells to customers and assess this list to identify opportunities where productisation can be implemented. Consider which services could be turned into a packaged, reproducible product through the use of new technology or automation and where processes could be introduced to ensure production is regimented and easily repeatable.
Repeatability and reproducibility are the two key components of productisation and essentially mean that, at every stage of a process, each step is done in the same way by the same person or machine every single time. As technology advances, automation is increasingly central to repeatability and reproducibility, enabling businesses to conduct their processes the same way, time and time again, at the push of a button.
Automation means that businesses can streamline their processes, removing human involvement wherever possible to ensure that costs are low, discrepancies are eliminated and essentially allowing things to operate on autopilot.
Process documentation
Once processes have been streamlined and automated where possible, the next step to scaling up your business and preparing it for a sale will be documenting these processes. Process documentation means that all of the steps required to complete a process are outlined, offering a clear explanation of how the processes work and providing a comprehensive set of instructions for carrying out each activity that can be readily updated where needed.
Process documentation can include instructions on each step of a process, the contribution that each step makes to the final product and the roles and responsibilities of employees involved at every stage. This provides clarity on the chain of command, the necessary tasks to complete any process and where responsibility is assigned within each business activity.
In a streamlined business with repeatable, automated processes, documenting how each activity is performed will be key to providing clarity within the organisation, as well as an easily transferable set of documents that can be passed on and provide clear instructions to new owners once a sale process has been completed.
Process documentation can improve efficiency by helping to reduce any guesswork that might otherwise occur in stages requiring human involvement, saving time and costs and helping to quickly and easily onboard new employees pre or post-sale. Even after productisation, taking the time to fully document how a process is carried out can help to identify remaining flaws, drive further streamlining and generate even greater efficiencies and cost-savings.
Documenting processes also means that they can be replicated moving forward, helping to preserve the repeatability and reproducibility that are so central to productisation. Perhaps more importantly, however, it will provide a set of blueprints that mean processes can constantly be tracked, enabling flaws to be rapidly identified and improvements and new automations implemented whenever possible, throughout the lifetime of a process. The ability to make these minor, incremental changes on a regular basis will help to ensure processes don't become outdated and, ultimately, require a major, costly overhaul.
Process documentation involves several fundamentally simple steps. Firstly, processes should be named and briefly summarised, with their start and end points, as well as inputs and outputs, clearly documented. From there, each step throughout the process, connecting the start to the end and the input to the output, will need to be summarised, including documentation of what each step achieves or contributes to the endpoint and the employees and tools that are involved at each stage and what they contribute.
Once the stages have been outlined and summarised, you can begin to review them and, ultimately, produce a document that clearly and simply delineates the process, perhaps in the form of a numbered set of descriptions and instructions, or even a flowchart.
Process documentation is likely to be a lengthy undertaking, especially for a six-figure business that might so far have sailed by on unwieldy process documents, outdated, disorganised instructions and expertise that is specific to certain employees, but not documented within the company.
However, when scaling a business up from six figures it will be absolutely vital and, once completed, will deliver huge benefits. As well as enabling clarity and continuous improvement of processes, it will mean the business can scale up with greater flexibility, by providing a level of oversight and regimentation that ensures new technologies can be incorporated when possible, issues can be remedied quickly and processes adjusted as the business grows.
Perhaps most importantly, however, process documentation will deliver huge benefits when it comes time to sell the business, making a transfer of knowledge as easy as handing over a set of documents once the sale has completed. Furthermore, when a scaled-up business puts itself on the market, a thorough documentation of all its processes will be a valuable business asset in its own right.
Build a great senior team
A scaling up strategy is not built upon the brilliance of a single owner, rather it is a process that relies on a breadth of expertise and a great core team. Gaining this broad leadership team is one of many things that will distinguish a six-figure business from a properly scaled-up company pulling in seven or eight-figures each year.
In order for your business to attain that next level of growth and prepare itself for a more profitable, more efficient sale process, you will need to ensure that a senior team is in place (providing you don't already have one) that is prepared and qualified to oversee this strategy alongside you and help drive your company's growth from the top.
One of the key figures in this will be your Chief Financial Officer (CFO). As with other senior figures, you will ideally want a CFO who has, not only a strong degree of expertise, but also experience of scaling up and managing the finances of businesses turning over seven or more figures per year.
Strong senior management will require more than just financial knowhow, however, and your top team should combine broad and complementary skills and specific expertise, as well as general knowledge of the business, the sector you operate in, your growth strategy and sale plans.
Aside from your CFO, you should also consider other areas where your company needs to build and hire senior figures with expertise in these areas. If your scale up plans involve incorporating automation and other new technologies, then a Chief Technology Officer (CTO) will be crucial to driving these efforts, devising the framework for investing in new tech, liaising with suppliers and vendors and managing the IT team.
Marketing will be crucial as you look to drive traffic at scale, and a Chief Marketing Officer (CMO) will be central to this process, guiding the sales and marketing strategy that helps increase traffic. Equally important could be a non-executive director, who will serve as a sounding board on important issues relating to the company's growth. A non-executive director may not be an employee of the company and will not take an active role in day-to-day operations, but will provide crucial guidance on the bigger picture and longer-term results – a crucial perspective to have in any scaling up strategy.
A scaling up strategy relies on expertise and constant consultation with figures offering a range of viewpoints. For that reason, advisors will be crucial to the process of scaling up your business and this is an area where you shouldn't shy away from engaging the services of third party or contracted experts, such as bankers, accountants and business growth strategists, as outside expertise will provide invaluable input and perspective.
Of course, something that you must consider while shaping your senior management team is what your place is within it. This is an issue that will require you to be clear-sighted when thinking about your own strengths and shortcomings and you shouldn't hesitate to discuss the issue with business partners or outside advisers.
While you may be the founder and/or owner of the business, that doesn't necessarily mean that your skillset is suited to being, for example, the CEO. If this is the case, you should consider hiring or promoting someone with the necessary attributes and experience to lead the scale up strategy from the front.
If you aren't going to be leading the company as CEO, you will need to think about how best you can contribute to and help oversee the firm's growth strategy. Perhaps you would be suited to a more strategic, less hands-on role, such as Chairman, or something that involves more involvement with day-to-day operations, such as Chief Operations Officer (COO).
Whatever your role is, a scaling up strategy that seeks to drive your turnover past the seven-figure mark will require your full effort and attention. This kind of dedication will ultimately prove extremely worthwhile, however, helping you build a bigger, more efficient company that is more attractive to potential buyers and, ultimately, a sale that is smoother and exponentially more profitable for you.
Considering selling your business but not sure where to start? Here are the key considerations for owners planning an exit.
Find out why you might not need a broker to help you sell your business.
Share this article