A full-service agency offering feels like exploring EPCOT in Florida: like trekking through countries as a taste-loving traveler, a full-service agency provides a menu of marketing, advertising, and other promotions to choose from in one central hub. 
These specialized agencies can provide popular services including but certainly not limited to brand identity design, digital media buying, affiliate marketing, social media marketing and management, content marketing, email marketing, public relations, eCommerce website design and strategy, influencer marketing, and more. Whatever your business needs, a full-service agency can satisfy and (hopefully) exceed your expectations. 
But just because a full-service agency has a theme park of options to choose from, that doesn't mean you have to use them all. Full-service agencies place the power back into the hands of the people through the power of choice and free will. Your goals can still be accomplished when you choose an agency that aligns with your vision. 
But how do you know what constitutes a great full-service agency? Great full-service agencies are partners who actually provide a full marketing service, they don't stop at providing marketing services, and they have a collection of client testimonials to back up their work. They help your business brand grow from the moment the seeds are planted until that seed grows into a great Redwood tree. 
---
Top Full-Service Agencies to Scale Your Marketing Efforts:
---
Pros and Cons of Working With a Full-Service Agency 
Pros 
Many full-service agencies create their own customized marketing technology platforms that allow them to document real-time data and discover new trends to benefit their clients. The purpose of these platforms is to help provide the most effective marketing strategies to achieve quantifiable results. With their technology, you get exclusive access to the latest trends and more. 
You also get to work with experienced marketers to complement your business operations. Business and marketing go hand-in-hand. A full-service agency can be a valuable partner-in-crime for you with the abundance of skills necessary to navigate the market you're in. 
Working with marketing professionals can also give you a fresh perspective to encourage creative thinking and problem solving in everyday business. It also helps that using a full-service agency not only streamlines your marketing efforts, it's more practical from an economical standpoint. This makes it easier to measure and prolong budgets without having to make cuts to in-house marketing departments. 
---
Cons
While working with a full-service agency has significant benefits, it's also important to acknowledge the different drawbacks. This will help you determine whether or not a partnership with this kind of agency is worth your time and money. 
Miscommunication and technological mishaps can be potential downsides of working with a full-service agency instead of hiring in-house marketers. And even though agencies have a tribe of seasoned professionals aiding you, the lack of industry experience can also pose a problem for some clients, depending on their industry niche and what their niche marketing expectations are. It can also be a possible red flag to know that working with an account manager at an agency means that you are more than likely not their only client — that means other accounts may be prioritized above your own and vice versa. 
Now that you know what a full-service agency is, how to choose one that makes sense for your business, and what the pros and cons of working with one are, here are our top 14 full-service agencies to scale your marketing efforts. 
---
Top Full-Service Agencies to Scale Your Marketing Efforts
With so many incredible full-service agencies to choose from, we've compiled a list of the top 14 we recommend you book a consultation with.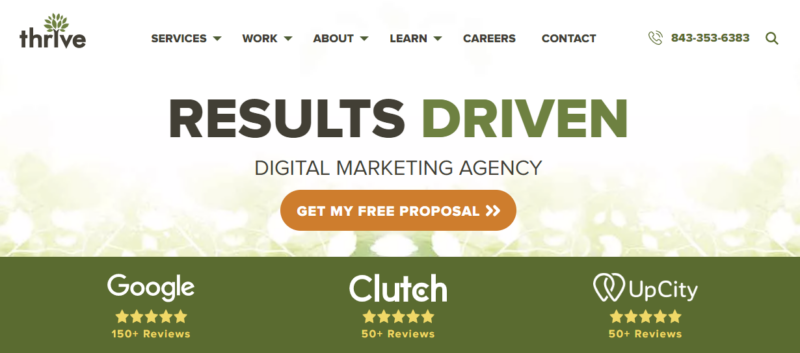 Thrive Internet Marketing Agency is an award-winning digital marketing company that operates on a strategy-first approach. They produce positive results for their clients by optimizing marketing processes and generating targeted results to grow their brand online. 
Dedicated to helping clients thrive since 2005, Thrive prides itself on staying committed to cultivating quality relationships to produce positive results. The agency offers different online marketing tactics to catapult a client's online presence to new heights including digital marketing, search engine optimization, pay-per-click (PPC) marketing, web design and development, social media marketing, online reputation management, and more. Thrive plants the seeds of change for their clients to outgrow their competition.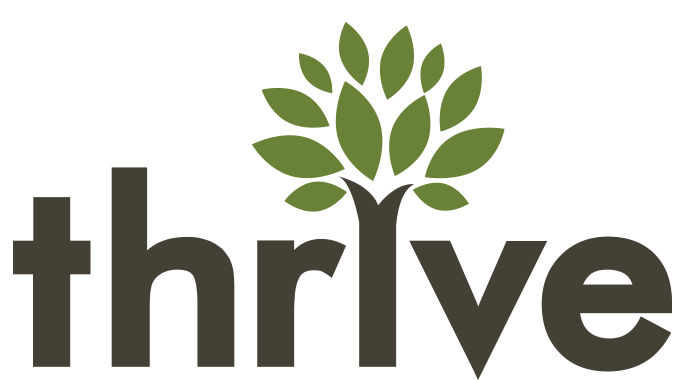 Thrive is an online marketing agency with a passion to use the power of the Internet to grow your business.
Thrive was founded on the conviction that businesses can successfully outshine their comp…
---

Moburst puts mobile marketing first to help companies scale for hypergrowth to become category leaders. Ths digital full-service agency incorporates advanced technology, creative thinking, and reputable data as their tools to generate profitable results and maximize KPIs. 
Moburst has offices across the globe in New York City, San Francisco, and Tel Aviv. The company has helped Reddit gain 90% more app exposure and launched a campaign for Samsung that took home an international award.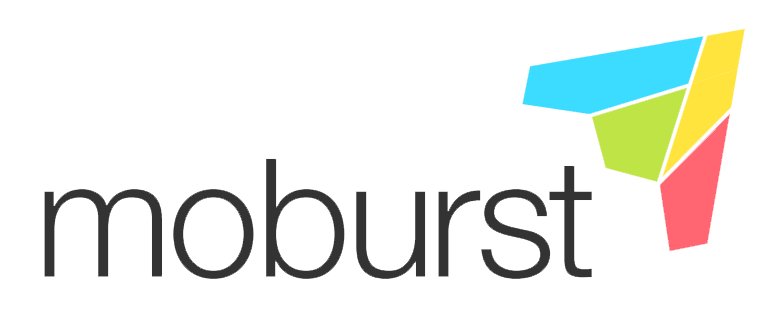 Moburst is a digital full-service, mobile-first marketing agency that helps companies to scale and become category leaders. We love solving the clients' tough digital challenges and firmly believe t…
---

LYFE Marketing is an award-winning social media management agency that brings marketing to life for their clients. Outside of their special social media services, the agency also provides SEO, PPC, website design and development, video animation, and more through proactive marketing funnels.
This full-service agency has driven over 983,287 leads for their clients through their digital marketing and social media management efforts. Lyfe Marketing is an agency that truly caters to small businesses to help them grow and invest in quality marketing from talented professionals.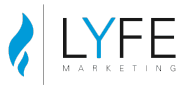 A leading social media management company that helps businesses grow online. LYFE Marketing helps clients increase leads and sales through social media marketing….
---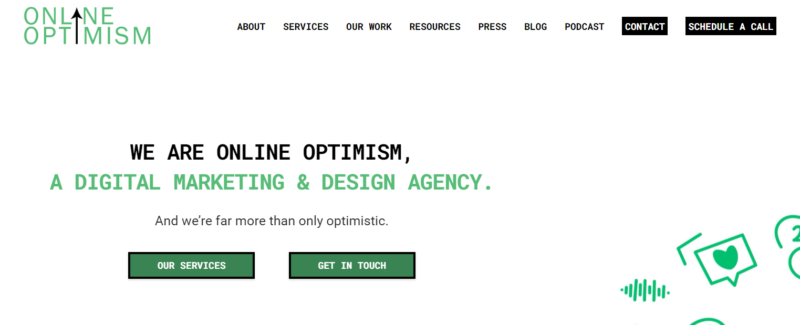 Being online for your business can result in a negative experience. But with Online Optimism, that doesn't have to be the case. Launched in 2012, Online Optimism is a digital marketing and design agency that uses a data-driven approach in their efforts. 
The agency specializes in SEO, website design, PPC, graphic design, social media marketing, digital ads, branding, and more. Online Optimism makes online marketing an optimistic experience working with some of the top experts on the world wide web.

Online Optimism is a creative digital agency that makes you feel a bit more Optimistic about your online marketing & design. Their organization works in Digital Advertisements, Design & Creative, Soci…
---

Cleverly offers a hodgepodge of services for B2B companies itching to grow on social media platforms like LinkedIn. The agency has won leads for 5,000+ clients including Uber, eHarmony, Lego, and Hulu. They make this possible by utilizing data from thousands of outbound B2B campaigns to send proven, personalized messages to certain clients on LinkedIn. 
Cleverly doesn't only play the LinkedIn game. The company also offers white-label lead generation, SEO content and blog writing, and Google Ads management services to scale leads and convert deals.

We run LinkedIn ads that actually convert. Our agency gets more of your ideal prospects to convert into customers through irresistible LinkedIn Ad funnels and proven outbound B2B lead generation campa…
---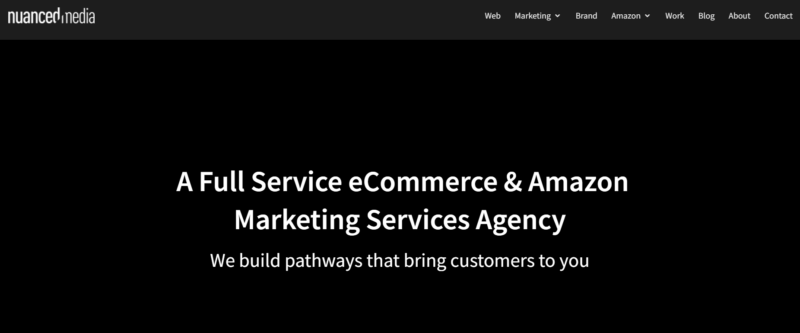 Nuanced Media is a full-service eCommerce marketing agency and Amazon Partner that helps brands launch and/or scale on Amazon. That's what makes them slightly different compared to other full-service agencies. Amazon is the largest eCommerce marketplace on the planet, and Nuanced Media is your brand champion leading the way to victory through the jungle. 
This specialized full-service agency provides popular Amazon growth strategies including advanced data-driven product optimization and quality keyword harvesting for brands to scale. In addition to their profitable Amazon services, Nuanced Media fuels eCommerce growth through influencer outreach and affiliate and social media marketing; wholesale distribution networks, and selling onto alternative platforms like eBay, Walmart, and Target. 

Nuanced Media, an Amazon Partner, is a Full-Service E-commerce Marketing Agency for Amazon Brands. We help brands launch and/or scale on Amazon. We have an established process that enables our partner…
---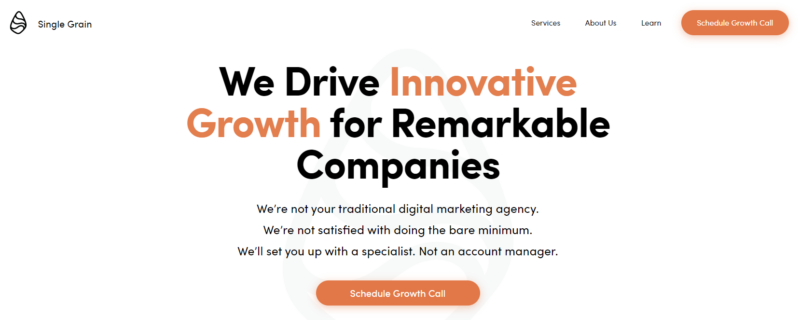 Single Grain is one of those full-service agencies that embraces the personal with the personalized for the most authentic client experience. The company uses state-of-the-art technology and empathetic, highly specialized marketing experts to drive leads, boost sales and engagements, and foster genuine connections. 
From a novice SEO company saved from the brink of bankruptcy for literally $2 to becoming one of the most sought-after digital marketing agencies, Single Grain is anything but a single grain. The company ranks #1 on Google for competitive search terms including "marketing trends" and "influencer marketing" to prove their value from an SEO perspective. Outside of the SEO ocean, Single Grain offers powerful services like SEO and content marketing, PPC: Google & Facebook Advertising, conversion rate optimization, lead generation, performance marketing, and more across various industries including Web3, NFT and crypto.
---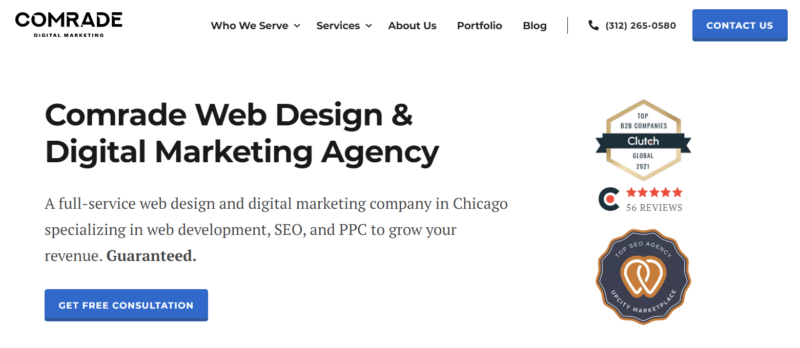 Chicago is known for more than just pizza – it's also home to Comrade Web Design and Digital Marketing Agency. Comrade is a comrade in arms for their clients. The agency is compassionate to small businesses and barriers like bigger competition and lack of resources they have to face on the journey to profitable growth. 
Comrade Digital Marketing powers profitable business and eCommerce store growth for small businesses through their specialized, strategic services. While they are ROI-driven, they foster a culture of honesty, transparency, and accountability to ensure a successful partnership. 
Comrade can be a comrade in arms if they can document how they can and will drive results for clients, and that is something they are upfront about. They know that every small business is unique and different strategies may or may not work. Comrade is an agency that stands behind its work and it shows: of the 12+ years they've been in business, they have a 92% client retention rate.
---

Web FX is a revenue-generating agency that provides tech-enabled solutions to digital marketing problems that keeps the focus on driving results. The agency helps clients make more informed decisions and achieve their desired results through their digital marketing experts and custom-built software platform MarketingCloudFX. 
Web FX beautifully organizes their website as if it's a menu of delicious offerings from your favorite restaurant. If you're in need of SEO and lead generation services, for example, Web FX condenses that down to organic search before opening it up to local SEO services. Maybe if you need help with UX and interactivity and want to make your Shopify ecommerce store more functional, explore what a development process with Web FX looks like. 
It's no wonder Web FX has generated over $3 billion in revenue for their clients. 
---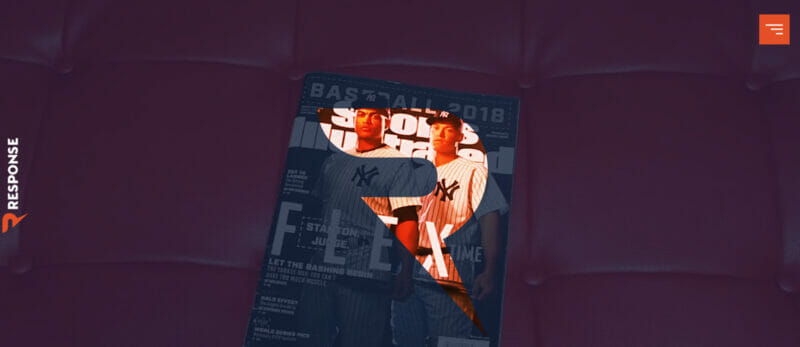 Response packs a punch in value when it comes to help ambitious brands think outside the box. 
Based in New Haven, Connecticut, Response's strategic marketing initiatives ensure their clients get the responses they're looking for.
Response offers branding, digital marketing, advertising campaigns, websites, design projects, social media marketing, and more. When presented with challenges that may require a different approach, Response tries to examine from more than one perspective. Their strategy when faced with challenges is inspiring when coming up with solutions.
---

Hibu makes digital marketing smart, easy, and accessible. They create intelligent custom digital marketing solutions for clients to earn more visibility and increase their revenue. 
Smart digital marketing can be a complicated process but Hibu makes it easier than slicing pie. The agency has years of small business marketing experience made possible with advanced, leading-edge technology 80% of websites don't have. Hibu is an all-in-one service dedicated to making the lives of small business owners simple.
---

KlientBoost is another one of those full-service agencies that makes personalized digital marketing solutions and strategies scale successfully. They have a large library of published case studies, reviews, video testimonials, and more supporting their even larger library of customer success stories. 
KlientBoost boosts their clients through paid advertising, SEO, email marketing, conversion rate optimization, and much more across the SaaS, eCommerce, and lead generation space. If you want a one-time audit done for your digital marketing platforms or ongoing management, the agency provides multiple options for a wide variety of clients to choose from.
---

Don't call this full-service agency an agency. In fact, Axle Eight is the anti-agency agency that makes it easier to breathe. 
Axle Eight's key services provide a full-body workout for clients. This not-so-normal agency have mastered skill sets such as holistic marketing planning, full-funnel content strategy, conversion-focused content, on-page and off-page SEO, data-driven advertising, email nurturing campaigns, public relations, and social media maintenance that generate money-making ROIs you'll want to brag about. 
---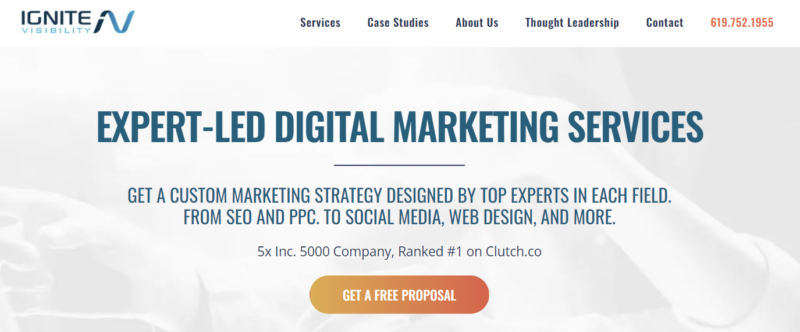 Launched in 2013, Ignite Visibility is a premier full-service digital marketing agency based in San Diego, CA. The agency grows businesses online by evaluating competitive data, forecasting revenue, installing reliable tracking, Amazon marketing, earned media, paid media, email marketing, and more. 
Ignite Visibility also provides valuable content, offering best-in-class strategy, services, reporting, and industry insights to help one learn, grow, and ignite. The company is fearless in its pursuit of excellence for their clients and target audience.
---